Topic – Hygiene and Waste Management: The Challenge and the Resolution
Venue: Sanskriti Bhavan, Hind Lamps, Shikohabad
Date: February 13, 2016
A student discussion was held on the above topic as part of a one day workshop with participants from several colleges in the vicinity.
Kiran Bajaj drove home the point that educated people had the responsibility of looking after the hygiene of their own environment. Squalor has become the cause of many diseases and has amplified pollution. Students need to be aware of their responsibility not just towards formal education but also the need to create awareness in their own communities.
Paryavaran demonstrated managing waste by separating wet and dry garbage. The interesting discussion consisted of the thoughts and feedback of many teachers and professors. While the ideas were varied, the focus for all was to create education and awareness around hygiene, waste management and other procedures to manage the waste around us. It was suggested that Waste management should be taught in schools and colleges as part of the study curriculum. Everyone was united in committing their time and energy to create a clean and green environment around them.
Picture Captions:
1. Waste Management Briefing Shashikant Pandey.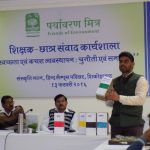 2. Shashikant Pandey explains how to separate waste.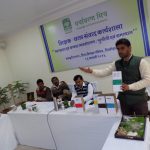 3. Exhibition of organic products.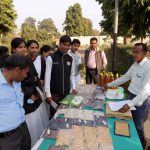 4. The workshop invited teachers and students.